User Guide
EasyXLS Basics
Cell formatting
Conditional formatting
EasyXLS™ library provides the methods to read or set conditional formatting to a cell or range of cells, including rows or columns, for an Excel file. If a specified condition is met then the defined format is applied to the cell.

The conditional formatting can have one or more condition set, and for each condition a special format is applied.
Source code sample

The below example shows how to export an Excel file and set conditional formatting to a range. The first step is to set the range where the conditional formatting will be applied, then set the formatting options.
The screen shot below represents the exported Excel file with conditional formatting applied to two ranges:
     - A1:C3 - the cells data will turn red if the value of the operator is between 9 and 11
     - A6:C6 - the background color of the range will turn bisque if the condition is met.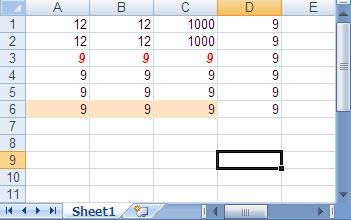 Available for: Professional, Excel Writer, Excel Reader