User Guide
EasyXLS Basics
Named ranges and formulas
EasyXLS™ library allows you to define named ranges and to use names in formulas in Excel files.

A name can be referred to a cell, a range of cells or a formula and it has a title that identifies the name.
Source code sample

The below example shows how to export an Excel file with a named range.
The screen shot provides an example of an Excel file with two sheets. The second sheet has a defined name for a range of cells.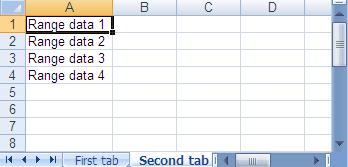 Available for: Professional, Excel Writer, Excel Reader