User Guide
EasyXLS Basics
Cell formatting
Formatting cells, columns and rows
EasyXLS™ library enables you to format Excel cells, rows, columns and cell ranges. The supported formatted options are:

Source code sample

If you want to format cells, consider the code sample and the screen shot below:

The screen shot below represents the result of the above code that formats the cells. It shows an Excel file with two worksheets ('First Tab' and 'Second Tab'). The first worksheet has the following format for the cells. The column headers are formatted with font size (8), font name (Verdana), foreground (yellow), background (black), borders color (gray), border size (medium), horizontal alignment (center), vertical alignment (bottom), and wrap option. The table cells are formatted with default font size (10), default font name (Arial), borders color (gray), foreground color (dark gray).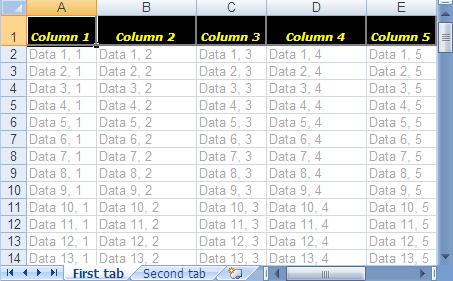 Available for: Professional, Excel Writer, Excel Reader