User Guide
EasyXLS Basics
Addressing cells
Formulas
EasyXLS™ library allows you to read Excel formulas, export Excel files with formulas and calculate Excel formulas.

Formulas are mathematical expressions that allow calculations for sheets values.

EasyXLS™ component provides all the functions supported by Excel as far as formulas are concerned. It provides arithmetic, logical and unary operators, formulas with numbers, dates and strings, formulas with cell references, formulas with cell ranges, formulas with names and with arrays.
Formulas elements:
The screen shot below represents the exported Excel file with formulas generated by the code sample above. The formula represents the sum of the cell values from A1 to A4. The result of the formula is displayed in cell A6.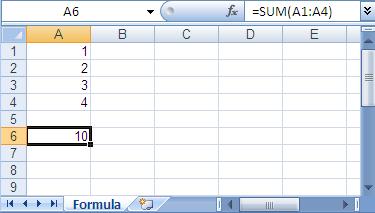 Export formulas to Excel file
EasyXLS allows you to export formulas to Excel file. The above code sample shows how to achieve this goal.

The formula is a cell value that must start with the "=" sign (i.e. =A1+C2).
Import formula from Excel file
EasyXLS allows you to import formula from Excel file. The library permits reading Excel formula expression or the formula value.

The formula expression can be read after the Excel file is imported using ExcelCell.getValue method.

The formula value can be read using various methods that allows importing the Excel file to DataSet, ResultSet or List.
Calculate formula and read formula result
EasyXLS library allows Excel calculation for sheets and reading the formula result after computation.
Hidden formulas
EasyXLS allows you to hide the Excel formulas expressions using ExcelStyle.setHiddenFormula, ExcelCell.setHiddenFormula, ExcelColumn.setHiddenFormula and ExcelRow.setHiddenFormula methods. The sheet that contains the formula must be protected.
Array formulas
EasyXLS supports also array formulas that can be added to Excel file using ExcelWorksheet.easy_addArrayFormula method.
Getting started with EasyXLS Excel library
To download the trial version of EasyXLS Excel Library, press the below button:



If you already own a license key, you may login and download EasyXLS from your account.



Available for: Professional, Excel Writer, Excel Reader, Excel Express Writer (partial)